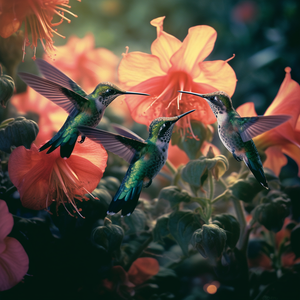 Welcome ToHummingbird Momma At Hummingbird Momma we, believe that the health of our planet is critical to the dietary needs of our birds, wildlife and yes, Humanity. The USDA Premium Certified Organic Sucrose we lovingly prepare for your little frequent flyers, contains all of the natural vitamins and minerals they need to refuel without pesticides, preservatives or dyes... We are an environmentally-driven organization deeply concerned about the noted future extinction of our planet's three essential pollinators — Hummingbirds, Bees, and Butterflies . As the survival of humanity, our planet, and our planet's precious wildlife depend on their survival
Premium Organic Hummingbird Food
Our Premium Organic Hummingbird Food approximates the sweetness and consistency of the nectar naturally found in flowers. Our concentrate contains all the natural vitamins and minerals your frequent flyer needs to refuel, without pesticides, preservatives or dye.
About Hummingbird Momma
I spent many summers trying to get little Hummers to come to my feeders.  Over the years I spent a lot of my time researching what worked and what did not work. Because of the time I spent on this project, my husband started calling me Hummingbird Momma!
Being sensitive to environmental issues, I began to seek out and develop the purest organic hummingbird nectar formulation available to feed my little friends. The most important part of my research dispelled the myth that the red dye in the nectar attracts our Hummers. In fact, depending on the manufacturer, the colored dye in these nectar packs can be quite toxic.

For these reasons,  I developed my own organic, all natural nectar concentrate that provides the birds with a nectar that is most similar in consistency and sweetness as that found in natural flowers. Try it and see the difference!
Helpful hints to keep little Hummers returning day after day!
● Use smaller amounts of hummingbird nectar in the feeder
● Change hummingbird food frequently
● Clean the feeder with lukewarm water (no soap or detergent)
● Hang feeders in the shade
● Hang fragrant red and purple flowers close by to entice hummers
● Place feeders in separate locations to help eliminate feeder competition
Go Organic Today!
There are a lot of urban myths that are dictating that people choose exclusively non-organic refined white sugar because of the supposed danger to wild hummingbirds from the trace amounts of iron that may be in organic white sugar.  Some of these recommendations cite a single report so I had a closer look at this report to see if the hysteria was warranted.
White Sugar: The Harmful Elements
Refining raw cane sugar into white table sugar is a complicated process that involves hundreds of organic, inorganic and electrolytic materials. Many of these chemicals can cause irritation to different parts of your body and, in high enough doses, some of them can even be poisonous or toxic.
Hummingbird Momma has been a top selling hummingbird feed in our store (Trellis Farm and Garden, St. Charles, IL) for years! It's made locally and our hummingbird customers love it!
Shirley S.
I tried for several years, with limited success, to attract hummingbirds to my feeders. Then, a "little bird" told me about Hummingbird Momma's special nutritional nectar specifically for these little creatures. Along, with the food, came great advice from Hummingbird Momma as to what type of feeders are best and the best placement in my backyard. It took no longer than a couple of hours with the feeders full of the special drink to attract hummingbirds. They must know a good thing when they taste it because now hummingbirds are permanent visitors to my feeders summer after summer. There is no doubt Hummingbird Momma nectar made the difference!
Paul
I am so thrilled with Hummingbird Momma's nectar. It is so amazing how quickly the hummingbirds come to the feeder. One summer I came out my back door and a hummingbird flew up knowing I was coming. It feels so good knowing I am nourishing the beautiful birds.Thank you Hummingbird Momma.
Tasha
Hummingbird Momma is the only source I will buy my hummingbird products from. I have bought hummingbird gift baskets from them and their attention to detail and the special care they put into each basket is wonderful. I was proud to give them to my friends. Also, I know that the quality of the hummingbird food is exceptional. It's organic and healthy for the hummingbirds which means a lot to me.
Connie M.
I put the food out and within a few hours I had a hummingbird in my yard, the first time ever :) I left the food far away from my deck as I was afraid they would fly away if I was too close. I waited a few weeks and decided to move the feeder closer and voila, they still came. It then became a feeding and fighting frenzy as all of the local hummingbirds wanted some of my magical food.
Debbie C.